Does Wawa Sell Stamps?

Does Wawa sell stamps? YES!
Wawa is one of the few convenience stores that sell US postage stamps. In order to purchase stamps you need to inquire at the counter. Wawa only sells Forever stamps in books of 20 and does not have the ability to sell individual stamps. The price you will pay for postage stamps at Wawa is the same price you would pay at your local post office.
| Location | Category | Days Open | Weekday Hours | Stamp Qty Sold | Stamp Type |
| --- | --- | --- | --- | --- | --- |
| Wawa | Convenience Store | Mon – Sun | 24 Hours | Books of 20 | Forever |
Where to Buy Stamps at Wawa Near Me
Wawa is a popular convenience store known for selling snacks, drinks, sandwiches, chips and even fuel. When it comes to the question does Wawa sell stamps, the answer is yes. You can find a Wawa on the map above or visit the Wawa store locator here. The stamps are usually kept up at the counter and you will need to inquire with the person at the register. If you are not sure if your local Wawa sells stamps you can always call ahead and ask.
Locations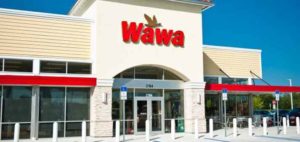 Wawa has more than 750 convenience stores. 500 of the 750 stores have gas pumps for refueling. You can find Wawa stores mostly in the North Eastern Unites Stattes. Specifically the have convenient stores in Pennsylvania, New Jersey, Delaware, Maryland, Virginia and Central Florida. They are open 24 hours a day 7 days a week. If you need to find a Wawa near you you visit their site and you can search for the nearest store based on the store number, city, and state.
Can You Buy Stamps at Wawa – Does Wawa Sell Stamps?
Frequently I get asked does Wawa sell stamps? Yes you can buy stamps at Wawa. In fact is as easy as purchasing any other product in the store. Wawa convenience stores only sell Forever stamps, which are nondenominational, and they are only available in books of 20. The price you pay for postage stamps in Wawa is the same you would pay at the United States Postal Service. One thing you can't do there is weigh your package so you may need to know how much postage you need to apply before you visit a Wawa store. At most of their convenience stores there is a large blue sticker up at the register that says "First Class Stamps Sold Here".
Does Wawa Sell Stamps and Related FAQ's
Does Wawa sell stamps? Yes
How many postage stamps can you buy at Wawa? Books of 20 stamps
How much are stamps at Wawa? The same price as you pay at the US postal service.
What type of postage stamps does Wawa sell? Forever stamps (nondenominational)
Where are the postage stamps located in Wawa? You have to ask for them at the counter.
Can Wawa weigh my package or envelope? No
Does Wawa sell envelopes? No
Does Wawa sell money orders? No
What Days is Wawa Open? 7 days a week
What hours is Wawa open? 24 hours
 What Does Wawa Sell
Aside from postage stamps they sell built-to-order foods, beverages, coffee, and gasoline. They even have surcharge-free ATMs, which are hard to find anywhere.When you purchase food you will find they have a large selection of hot breakfast sandwiches, built to order hoagies, specialty beverages, fresh coffee, and various soups, snacks, and sides. Postage stamps are some of the newest products introduced by the convenient store chain.
History of Wawa
Wawa, Inc., a privately held company, that started in 1803 in New Jersey. Surprisingly they were an iron Foundry at that time. At the end of the 19th century the owner George Wood was intrigued by dairy farming and started a small processing facility in Wawa, Pennsylvania. Wood found quick success in the dairy business because he got his milk process certified and was known for quality and cleanliness. The company focused on home milk delivery until around 1960, when milk delivery was in decline due to milks availability at stores.
Grahame Wood, the grandson of George Wood then decided to open the first Wawa Food Market in 1964. At the time it only carried dairy products.