Stamps.com Review | My Experience

Are you tired of dropping off your packages to the post office? Do you want an easy solution that lets you print postage and shipping labels at home? Do you want to save money on postage?
Stamps.com is a solution that lets you:
Mail packages without a trip the post office even if your parcel weighs over 13 ounces.
Create postage stamps and shipping labels right from your home printer.
Take advantage of their discounted rates to spend less money on shipping.
While Stamps.com is an awesome shipping solution that I love for my personal and business shipping, it is not the best fit for everyone. In this Stamps.com review I will share with you my personal Stamps.com review based on my experience, answer common questions, and address a few common complaints.
What is Stamps.com
They are an online solution that is certified by the United States Post Office to sell USPS products such as First Class mail, Priority mail, Express mail, etc. Their online interface allows you to purchase, calculate and print out official USPS postage, both domestic and international, that can be used for anything from postcards to large boxes.
You can print onto shipping labels, envelopes, or just plain copy paper and then tape your shipping label onto your package. You don't need any special tools or software.
"Everything is done through their online interface and they even send you a free postage scale to weigh your envelopes and parcels"
My Experience Using Their Shipping Labels and Printed Postage Stamps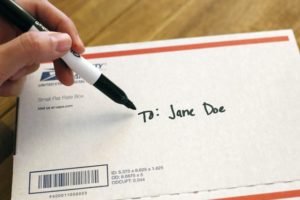 When I first started an online business, I would take orders via pay pal and literally hand write addresses on padded envelopes, weigh the envelopes on a food scale, and then slap the proper postage on the envelope.
The problem was that all of my packages weighed over 13 ounces which means I had to go and stand in line at the post office just to mail them.
Any package with postage stamps over 13 ounces is required to be handed to a clerk inside of a post office. This is because postage stamps are not able to be tracked to the point of origin. This 13 ounce rule is for public safety.
So here is where Stamps.com came in to play for my business. Currently I use their service through a Shopify store and connect to it through a 3rd party called Shipstation.
When you register your account at they know who you are as well as your address. You basically are getting pre-verified by the postal service. This means when you print postage stamps and shipping labels from Stamps.com it can weigh over 13 ounces and it doesn't matter. There is no need to go inside a post office, you can drop everything off at blue USPS collections box or you're your packages to your carrier.
Not only that, but you save yourself the time and effort of making shipping labels and you get a discount on the price of postage. With Stamps.com you can import shipping information from major platforms as well as from a csv file. This for me just meant taking a file uploading it into their interface and then having all of my shipping labels printed out at once. What's even better is that if you collect your recipients email address it lets them know the package is coming. You can even give them return labels if you want to go the extra mile.
"Stamps.com allows you to take orders and print labels in bulk to save you time"
>> Sign up and Get a Special $100 Offer at Stamps.com. Use Promo Code 100 <<
How Does the Process Work
Overall the process is very straight forward.
Open an account
Weigh your package
Enter the weight and choose your desired shipping ex: First Class
Print the shipping label on label paper, an envelope, or a piece of plain paper
Stick it on your package and you can mail it from anywhere in the world or give it to your carrier
Once you sign up, you can have your package ready to ship in about 5 to 10 minutes.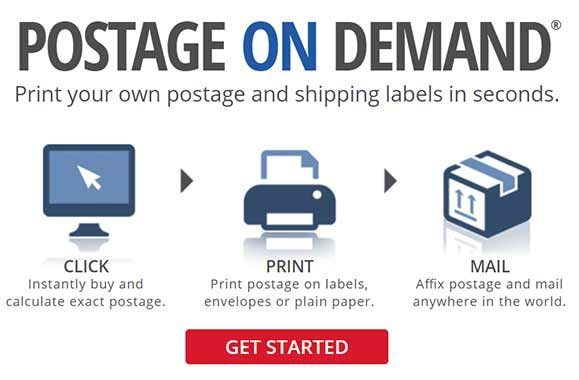 Below is a snapshot of what it looks like inside the system. It is really straight forward and takes less than 3 minutes to understand what you need to do. There are only a few options that you need to select. Below I am printing a sheet of 25 first class postage stamps.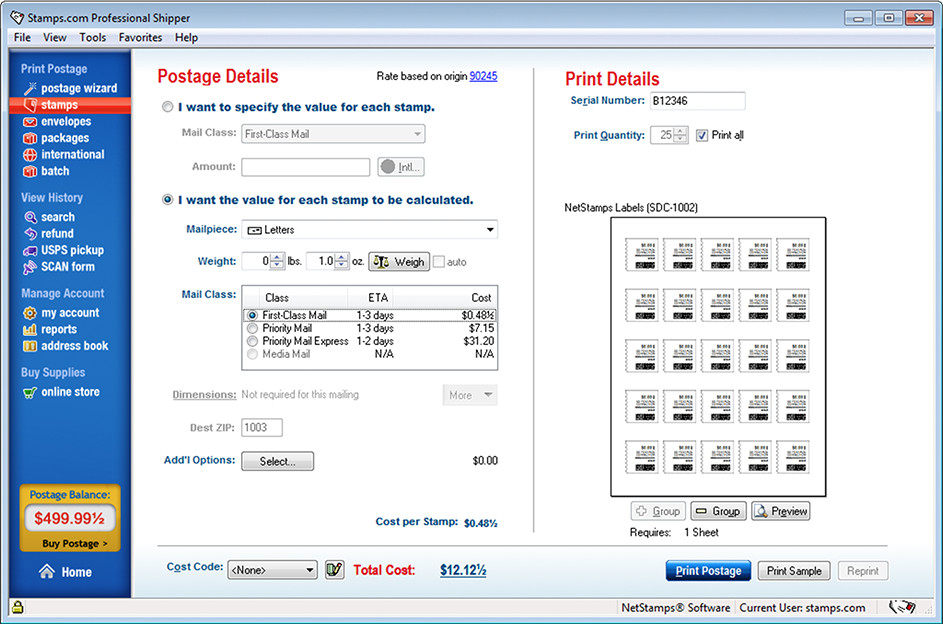 You Get A Free Postage Scale When You Sign Up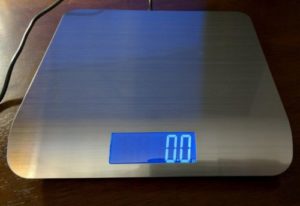 When you sign up for their service they will send you a FREE postage scale. You do have to pay the shipping and handling though. You can use this to get the exact weight of your envelopes or parcels to enter into their postage calculator.
This is the actual scale to the right. It is stainless steel and is actually pretty nice. They advertise it as a $100 value. Its probably more like a $50 dollar value, but its nice. It can weigh anything up to 5 lbs, has a nice backlit LCD display, USB integration so it sends the weight right to your PC,  and its small enough to fit on your desk.
If you are looking to sign up and ship your parcel now, you could use a food scale if your parcel is not to large.  You should receive your free scall in about 7 to 10 business days after you sign up.
>> Sign up and Get a Free Postage Scale and $5 Of Free Postage <<
The Postage Cost is Actually Less Than You Pay at the Post Office

You read that correctly. It is actually cheaper to send packages via sStamps.com. How much cheaper will vary based on how much you send.
The max postage discounts are as follows:
Up to 13% on Priority Mail Express
Up to 40% on Priority Mail
Up to 18% on First Class Parcels
Up to 5% on International shipping
Up to 40% on Insurance
How Much Does it Cost Per Month?
Their service costs $15.99 per month. What you need to know about that price is that it is strictly for their service. You don't get $15.99 worth of postage when you pay the monthly fee. That fee is your monthly service charge for your account. So your monthly spending while be $15.99 + whatever you spend per month on postage.
It Integrates With Popular Software and Platforms Like Amazon and Ebay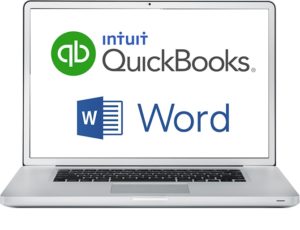 You can connect it to other popular software products like MS Word, MS Outlook, and Quickbooks. For products that don't integrate you can always export a CSV from them and then upload them into their online interface
For online sellers their interface can connect directly to eBay, Etsy, and Amazon. These external platforms can import your orders directly into the interface. If you need to connect your eCommerce account it takes about 5 minutes to set up.
They do offer an API as well and the ability to connect via ODBC.
As I mentioned earlier I use it with a high volume Shopify store and then I connect to Stamps.com via a 3rd party software called Shipstation.
"Setting it up with Shopify was easy and now my shipping is fast, accurate, and efficient"
Additionally with the integration my shipping labels look professional and my customers get a heads up when their package ships. My customers have no idea that I am a one man operation small business.
Is Stamps.com Worth It?
Yes, if you ship a lot of packages, print a lot of labels, have an ecommerce business, have a brick and mortar business, or are looking for convenience. If you ship over a 100 packages per month that weigh over 10 ounces the savings really start racking up! Even if you ship less the convenience of never standing in a post office line again is worth it!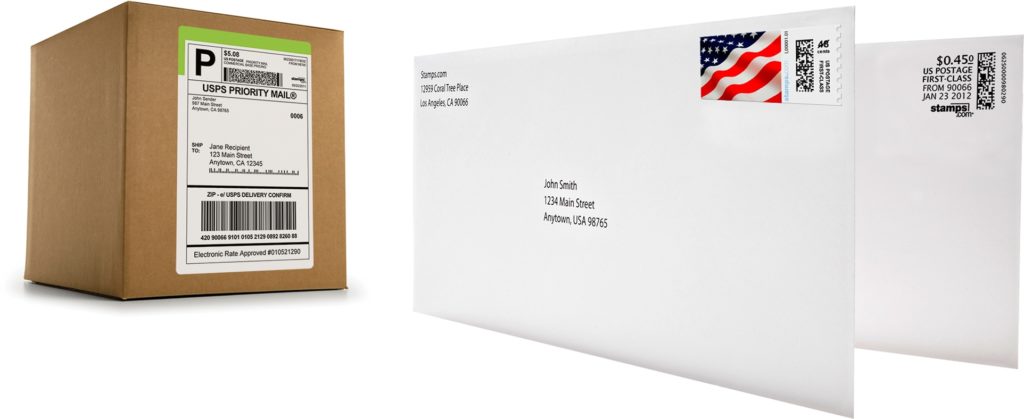 Save Time and Money By Printing Stamps Online. Sign Up Now for a 4 Week Free Trail
It is Best for Small Businesses All the Way to Large Enterprises
In my opinion small business all the way to enterprises can benefit from their service. If you are sending multiple packages a month, making excessive trips to the post office, or spending a lot of money monthly on postage, this is a good solution. The $15.99 you spend per month will save you many trips to the post office and making your printing of shipping labels super easy. Additionally if you ship a lot you will reap the benefits of their shipping discounts and be able to import addresses and quickly turn them into nice looking shipping labels.
For business with multiple employees you can have different people use the interface on different computers. The only limitation is that they can't be logged in to the system simultaneously.
I Don't Recommend it For Casual Shipping
The service is not for the casual sender or household user. If you are looking to print stamps from home for sending out a few packages or an occasional birthday card, it's not for you. If you read online stamps.com reviews you will see various complaints from people who don't understand that this is more of a business shipping solution. People sign up not understanding there is a $15.99 monthly service charge and that doesn't get you any postage included. Most of these people will usually say stamps.com is a scam…but of course it is not they just didn't understand the service.
Now if you are a casual sender and the $15.99/month is worth the added convenience for you, then by all means sign up. Just understand that you are charged monthly whether you ship any packages or not. For some people this is fine if $15.99/month is no big deal to you.
Why is the Average Stamps.com Reviews Only 3 out of 5 Stars?
If you read the reviews almost of the negative reviews come from people who sign up for home/office use. Which is why above I don't recommend it if you don't ship enough packages for it to worth the monthly fee. Normally when these folks get passed the 4 week free trial and they get their first monthly service bill, they feel they have been duped and then they write a review saying it's a scam.
If you read Stamps.com reviews of people like myself who use it every day for business to make your shipping fast, cheap, and efficient those reviews are 5 stars and there are 1000's of them.
Get a 4 Week Free Trial, Free Postage, and a Free Scale…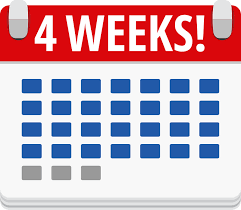 They offer a 4 week free trial in which you don't pay any service fee. You only have to pay for the postage you print. When you sign up they will actually give you $5 in free postage that you can use during your 4 week period. Additionally they will provide you with a postage scale for free, you just pay the shipping and handling. This will allow you to fully test their process with no risk before you decide if you want to commit. You can sign up and get a special postage offer of $100 value at Stamps.com! Use Code STAMPS100.
So What Happens If You Want to Cancel Your Account?
If the service is not for you, you can cancel at any time during the 4 week period without being charged the service fee. You can even keep the $5 on free postage that you got if you used it. They offer a phone number that you can call to cancel your account.
I have read a few Stamps.com reviews that people say calling to cancel is a pain because they try and convince you to stay. I have never canceled my account so that is not my personal experience.
There Customer Service is Personal
There has been one instance where I had to call and speak to customer service and it was regarding a postage label I tried to print that got jammed in my printer. When I called an automated operator picked up, but then I was connected to a real person who was able to void my postage so I didn't have to pay for it.
"What stood out to me was that I spoke to a real person"
Recap of All The Benefits
Here are the benefits of opening an account:
4 Week Free trial
$5 of Free Postage
Free Postage Scale (you pay shipping and handling)
Integration with popular software
Integration with popular eCommerce platforms
The ability to simply click, print, and mail
Send packages over 13 ounces without going to the Post Office
How to Get Started
To sign up all you have to do is go to their website and open an account. This will be the start of your 4 week trial. They will need some basic information up front including your credit card. They will also require your address and will verify it, because this is a requirement of the USPS so they can prove you are who you say you are. You should enter PROMO CODE 100 When you sign up.
Stamps.com Review Conclusion

Their online click, print, and ship service has been a big part of growing my online business. It has made life so much easier and made my packages look much more professional. With the 4 week free trial you really have nothing at all to lose, plus you will save money, time, and headache. The fact that you can try it for free is a no brainer.
It's possible you will never have to make a trip to your local post office again all while saving you time and money! Its really easy to use and integrate with other software and eCommerce. . Plus the online interface is designed to be straight forward. You will see the benefits and possibilities from the very first shipping label or stamp that you print.
"I highly recommend Stamps.com and think their 4 week risk free trial is worth a look for your shipping"