Postage Stamps for Wedding Invites

Postage stamps for wedding invites are very unique. They help you fast-track the sending if your invitations to invited guests ensuring that they get the invitation on time. When you buy stamps for a wedding, you must get the invitations to the post office and get them weighed, and if necessary have them registered for proper handling and monitoring.
Most people ask  if you can buy wedding stamps getting bulk shipping rates?…technically you can, but it doesn't really work out to save you money. When you use bulk shipping rates to get a discount on postage costs, you have to pay an up front fee. In then end it ends up costing you slightly more. The break even point is around 200 stamps. If you are getting more than that you might want to explore this option. Although to really see a benefit of bulk 500 stamps or more is ideal.
Where to Buy Postage Stamps for Wedding Invites
There are several places you can buy stamps and of course the most popular ones are the US post offices. The next best place is ordering them online. In certain regions you can even have them delivered the same day. Modern technology has even made it easier and possible to buy stamps online for wedding, online stamps can even be cost-effective on the long run because they can be delivered right to your doorstep, hence, you don't have to spend money on transport.
You can also approach some courier services such as the UPS Store or Fed Ex for stamps. In this case you may want to ask about their courier service for mailing the invitations to their respective recipients.
There are retail stores like Walmart, Costco, Target, CVS, and Walgreens that sell stamps both at their stores and online. If you have a rewards card, some of these locations count postage stamps towards your rewards.
Can You Buy Wedding Stamps Online?
Yes, you can buy wedding stamps online. If you get them through Amazon they come quickly (usually within 48 hours). If you are ordering through other online sites you should get them further in advance. The last thing you want to do is delay sending out your invitations while you wait for postage to arrive.
When your wedding invitation stamps arrive on time, you can simply take the invitations to the post office or courier where they can be sent in bulk, on the same day. While wedding stamps can be purchased online, you can't use them online, they have to be on the invitation packages hence, it may make more sense to go and purchase the stamps, the same day you intend to send the invitations.
Postage Advice for Mail Out Wedding Invitations
There are several tips and ideas you should keep in mind when planning to mail out wedding invitations. First of all, it pays to prepare long time before mailing out the invitations. You should consider leaving 2-4 weeks for your stamp to arrive and before the actual mailing, this will give you enough time to prepare for other aspects of the wedding. Secondly, you should consider taking your wedding invitation mails to the postal service and have them weighed so you have proper postage and you can budget properly.
Buying stamps online can take a while, hence you don't want anything to delay your plans, most especially wedding postal stamps. Once the stamps have arrived, you need to include a stamp on your RSVP envelope because it is one of the most important mail you are sending. Your RSVP mails may be sent ahead of all other mails, and you need to ensure that you confirm if the mail arrive at its destination.
You can also request that your invitations be hand sorted instead of machine sorted. Wedding invites are often bulky and square, which don't always work well in the mail sorting machines. When you drop your invitations of to your local post office you can ask the clerk about your preference to have them hand sorted. This request should not cost any additional money.
If your envelope is an odd size it's possible additional charges may apply, Again its good to go into a post office and ask these questions. Bring in your sample invitations with you for specific pricing. Below you can see some of the standard sizes that run through the machines.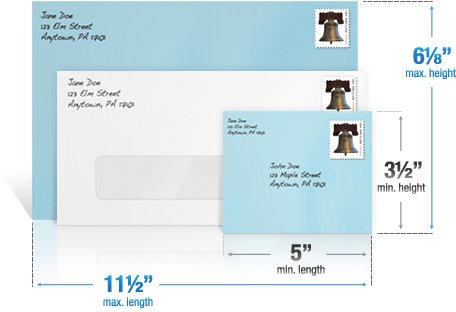 Buy Love Stamps

These stamps are by far the most popular for weddings. The postage stamps love inscriptions or images are available in special stores and most post offices. Love stamps are stylish and beautiful and they are cherished by the recipients because they are different and more unique than other types of stamps. Some stamps may sell these love stamps at higher prices due to high demand, but you need to confirm at the store or at online seller if they are available.
The most purchased love stamp is the red heart with the inscription LOVE.
How Many Stamps Does a Wedding Invitation Need?
When it comes to the question of how many stamps a wedding invitation needs, it all depends on the destination and weight of the invitation or envelope. Generally, the more weight, the higher the postage price or the number of stamps you may need. In some cases, you may get higher denomination stamps, hence you wouldn't have to buy too many stamps for each of the invitation envelope. Wedding invites are often around 2 oz and the USPS makes special wedding stamps that can cover the average cost.
The ideal wedding invitation weight should be one ounce for the least expensive rates, which would allow you to apply just one postage stamp. Due to heavier paper weights and thick card stock, extra postage is often necessary. If you are looking at wedding stationery samples in a store you can ask how much the weight is when an RSVP card is included inside.
How Much Will It Cost to Send Save the Date Cards?
The cost of sending a Save The Date Cards can vary. According to some researches, statistics have shown that a bride may spend up to $125 on the average, on Save The Date Cards, even before postage is considered. The first class stamp per card cost more on the average as each card will be weighed individually, but as expected, each card should weigh less than 1 ounce. You should expect to pay between 30 cents and $4 per card, $4 cards are usually for the first class or weighty cards, while the 30 cent should be enough for invitation cards that weigh less than 1 ounce.
Save The Date Cards are very important for wedding planning because it helps brides to be to prepare well ahead of time and stay organized, however, the time, energy and money you will invest in sending wedding invitations through these cards can be enormous but the results are worth it. Sending the Save The Date Cards ahead of time can be the best way to get the most results from them.