Does Harris Teeter Sell Stamps?

Does Harris Teeter sell stamps? YES!
Harris Teeter is one of several grocery stores that's sells United States postage stamps. In order to buy stamps at Harris Teeter you need to ask for them at the register when you checkout. Harris Teeter only sells nondenominational Forever postage stamps in books of 20 and they do not carry single stamps. The cost of stamps though is the same price you pay for them at your USPS post office.
| Location | Category | Days Open | Weekday Hours | Stamp Qty Sold | Stamp Type |
| --- | --- | --- | --- | --- | --- |
| Harris Teeter | Super Market | Mon – Sun | 24 Hours | Books of 20 | Forever |
Where to Buy Stamps at a Harris Teeter Near Me
Harris Teeter is a popular upscale grocery store that carries common goods found in a super market such as milk, eggs, chips, beer, snacks, and meats. When it comes to the question of does Harris Teeter sell stamps, the answer is yes. You can find your local Harris Teeter on the map located above or use their store locator on their website. When buying postage stamps from them, they are kept up at the register and/or the customer service counter. If you are still unsure if you can buy stamps at Harris Teeter, you can always call ahead and ask.
Locations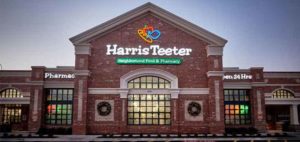 Harris Teeter has a total of 245 stores in 7 states: North Carolina, South Carolina, Virginia, Georgia, Florida, Delaware, Maryland and the District of Columbia. So that is mostly the middle and southern region of the east coast of the US. Most Harris Teeter's are open 24 hours a day 7 days a week, but it may vary depend on the region on size of the community the store is located in. If you need to find your local Harris Teeter, visit their website and search for the closet store to you by selecting your state.
Can You Buy Stamps at Harris Teeter – Does Harris Teeter Sell Stamps?
I often get asked does Harris Teeter sell stamps? Yes you can purchase stamps at Harris Teeter. Actually it is as simple as buying any other item or good from the super market. Before you buy stamps there you should know that they only sell Forever stamps, which are nondenominational, in books of 20. The cost however is exactly the same as you would pay at your local post office though. One difference between buying stamps at Harris Teeter and buying them from your local post office though is at Harris Teeter you can't weigh your package. One of my favorite tricks though is going to the produce section and using a food scale to get the weight of my parcel. If you are not comfortable doing that you will need the weight of the package first to determine how many stamps you need.
If you are not sure if your Harris Teeter sells stamps, you can ask or look for a large blue sticker up at the register that says "First Class Stamps Sold Here".
Does Harris Teeter Sell Stamps and Related FAQ's
Does Harris Teeter sell stamps? Yes
How many postage stamps can you buy at Harris Teeter? Books of 20 stamps
How much are stamps at Harris Teeter? The same price as you pay at the US postal service.
What type of postage stamps does Harris Teeter sell? Forever stamps (nondenominational)
Where are the postage stamps located in Harris Teeter? You have to ask for them at the counter.
Can Harris Teeter weigh my package or envelope? No
Does Harris Teeter sell envelopes? No
Does Harris Teeter sell money orders? No
What Days is Harris Teeter Open? 7 days a week
What hours is Harris Teeter open? 24 hours
 What Does Harris Teeter Sell
Besides US postage stamps, they sell common goods you find at a super market such as milk, bread, eggs, meats, snacks, and beer. Some locations have ATM machines, bottle recycling, delis, and an internal pharmacy. In my experience Harris Teeter is a bit of a high end grocery store in terms of prices and tends to be slightly more expensive their competitors. Postage stamps are a relatively new product that are carried in their stores.
History of Harris Teeter
The company was founded by two entrepreneurs, William Thomas Harris and Willis L. Teeter, back during the Great Depression. The first store was located in North Carolina and primarily carried only dry goods. This was one of the first grocery stores that allowed customers to select goods off the shelves. Prior to this business model grocery stores would have a clerk get your groceries for you from a list. Additionally while most grocery stores closed at 5pm, Harris Teeter remained open until 9pm on Fridays. The whole premise of Harris Teeter was to appeal to the working class.
In 2014 Harris Teeter was acquired by the Kroger company.