The Secret to Discounted Postage Stamps – Save Up to 10%

It's hard to find discounted postage stamps. After all these are a products of  your government and they don't operate like a normal private business. What I discovered recently though is that finding stamps at a discounted rate may be easier than you thought. You can use this hack no matter what country you are in if you are seeking postage stamps.
Using this method I've recently been able to purchase Forever Stamps on sale for as little as $0.42 which is an 8.5% discount from the $0.49 cost in 2017. I have seen someone get them for as little as $0.38 per stamp. I have also found global Forever stamps sell for an 8.5% discount and foreign stamps from various countries sell for over 10% off.
There are no strings attached, just straight up first class stamps at cheaper prices.
How to Save Money on Postage Stamps
There are a lot of tips and tricks out there about using reward cards to buy stamps, but almost all reward programs like at CVS and Walgreens, don't allow you to accumulate rewards when you purchase stamps (its in the fine print). Additionally you can't buy stamps with reward points in those programs. Same with Walmart which has world wide locations and sells stamps, they don't offer discounts on postage.
So how do you get cheap postage stamps on sale?…
There is only one place you need to go: EBAY
Buy Discounted Postage Stamps on Ebay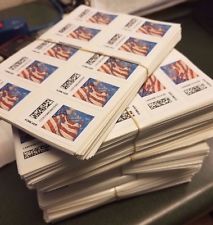 Ebay is an auction that provides you the opportunity to bid on things people are selling. Believe it or not, but people sell unused postage stamps. These stamps are normal first class stamps that you would get at your local post office and place on an envelope. The stamps for sale are brand new and have never been used or canceled.
You can buy postage stamps on Ebay at a discount in books, rolls, sheets, coils, and assortments. The more stamps you are willing to purchase than the larger the retail savings. You can find stamps from over a 100 countries available at a discounted rate.
Here is How you Buy Stamps on Sale at Ebay
First go to Ebay and search for postage stamps. If your country offers a specialized stamp you will want to search for that term. For example I am in the US so I searched for "Forever Stamps".  If you are not sure what the stamps of your country is called try searching for your "county name" + "post". For example "New Zealand Post". The more specific you can get the better so for example if you are in the Netherlands you might search for "PostNL". No matter what you should get a few hundred results of people selling unused stamps below retail price. You will find collector stamps as well, but sort through the results to find current discounted unused stamps.
You can bid on whatever you want, but I would recommend bidding on rolls of at least 100 stamps to make it worth your while.
"The more stamps you bid on, the more you save"
Recently I got a roll of 100 Forever Stamps for $42, which means I saved $7 from what I would pay at the Post Office or a retail store near me. As few times I use postage stamps anymore these days, do you know how long 100 stamps is going to last me…probably about 8 years. Plus these are Forever stamps, so if the postage rate goes up, I have technically saved even more money. Many countries have non-denominational stamps, you can go here to check for your county.
While in my instance I saved about 8.5% I have seen other auctions settle for larger  discounts in the 10% range.
Earn Rewards Points to Save More Money
If you really want to take advantage of racking up your Ebay savings on stamps, you can sign up for eBay Bucks. Once you are enrolled in the program you earn a certain percentage back of what you spend. If you earn $5 in eBay Bucks during a three month time frame, you get a voucher to spend on eBay within the next 30 days.
Stamps Are Cheap, Why Do You Need Them on Sale
Nice to Have For Bills You Can't Pay Online
Well for one, it is convenient to have them for bills that you can't pay online. You can keep them on hand and not ever have to run out for them again. Some folks don't have a checking account and need to mail money orders. If you are doing this often, then the cost of stamps can add up.
Save on Wedding Invite Postage
People getting married use TONS of stamps. If you are having 100 people to your wedding, that's 50 stamps per invite, 50 stamps for the RSVP's that go inside the invite, 50 stamps for save the date cars, and another 50 for Thank you notes. That's a total of 200 stamps you need. Weddings are expensive and you need to squeeze out the savings anywhere you can.
Save on Military Care Packages
Another reason is sending military care packages. These packages can get really expensive because they are so heavy. The best thing to do is visit your local post, have them weigh the package and then apply the proper amount of postage with discounted stamps you purchased on ebay. If you are sending military care packages frequently you could save yourself a significant amount of money following the method I have laid out above.