Top 5 Alternatives to Stamps.com

Looking for a Stamps.com alternative? Some people love Stamps.com, while others find them to have an expensive monthly service charge or their interface does not integrate with their eCommerce platform. Regardless of the reason there are several alternatives to Stamps.com you can consider which means you don't have to ship your packages from your local post office.
The companies below are Stamps.com competitors that you can review. Many of them offer free trials and free demos of the software. Most connect to all the three major carries USPS, FedEx, and UPS and can compare rates across them. Additionally most integrate with the top platforms like Amazon, Ebay, BigCommerce, Shopify, Paypal, and Etsy and have options for API integration.
I am not here to endorse any of them as I have not tried/used them all. I currently use Stamps.com, but I get many questions about alternatives to Stamp.com. Mostly by those looking for other options and/or to price the market.
My best advice is don;t just go for the lowest shipping rates, a good interface is interface and work flow is imperative to scaling your business.
Top 5 Alternatives to Stamps.com for Businesses
Endicia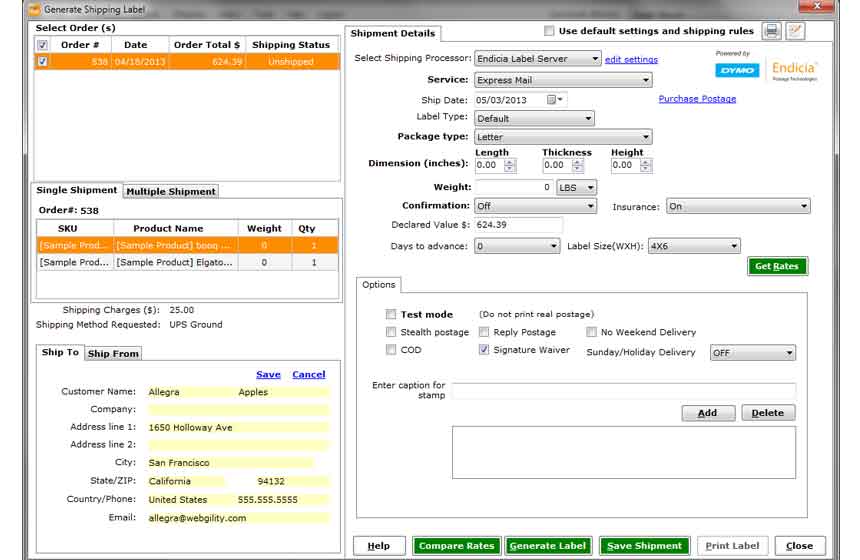 Like Stamps.com, Endicia leverages electronic postage to ship parcels affordably through the United States Postal Service. To date they have printed over $14 billion dollars in postage to help businesses ship packages. Their goal is to assist with increasing shipping efficiency and save you time, money, and resources. Their solution works for warehouse shippers and small or large eCommerce websites.
Endicia is probably the closest of the alternatives to Stamps.com because of their relationship with USPS and the Canadian Post.
Here are some of their highlights:
Automatically get USPS Commercial Base pricing with no minimum price required
Built-in address validation – Eliminates paying for undeliverable packages
Masked postage – hide the postage cost on the shipping label allowing you to add additional fees
Pay-on-Use Returns sallows you to provide return labels without pre-paying the postage, regardless of the outbound carrier
Auto-Refund Service lets you save time requesting refunds for unused shipping labels.  The software will do it for you.
Endicia offers a 4 Week Free trial. Get more info here.
ShipStation
ShipStation is a Stamp.com alternative, but geared more towars eCommerce websites. They offer web based software that makes fulfilling and shipping online orders easy and efficient. They integrate with all of the top eCommerce carries like Amazon, Ebay, BigCommerce and Shopify.
I do have experience with ShipStation. I use this in my Shopify store and I love it.
Here are some of the best features of ShipStation:
Easy setup, you will be up and running in no time —no implementation or installation
Ship multiple orders at one time, import orders from another tool or a spreadsheet
Customize shipping and order fulfillment with automation
Integrates with all of the big eCommerce platforms
Ability to add more sales channels
ShipStation Offers a 30 Day Free Trial. Get more info here.
ShipWorks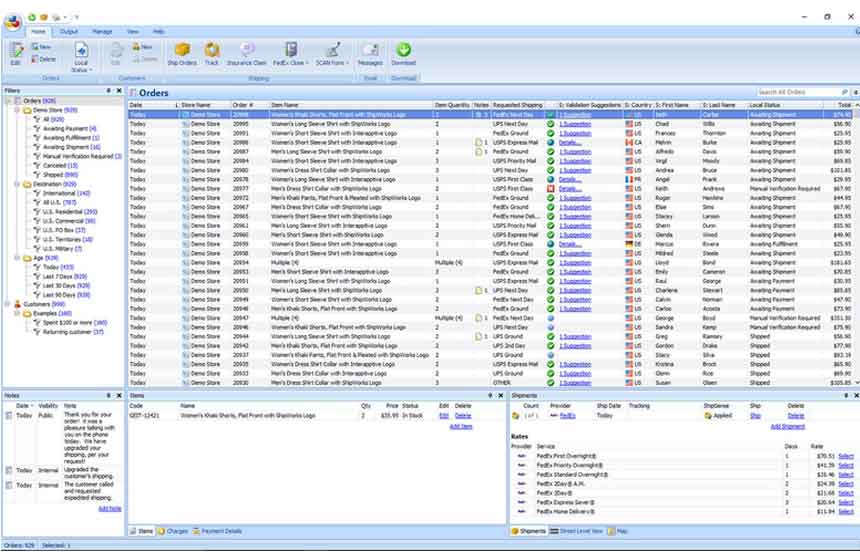 Shipworks is a cloud-based platform that allows you ship across any platfor using all of the major carriers. They even have discounted rates for each carrier including USPS for up to 40% off. ShipWorks integrates with over 90 platforms of eCommerce.
Here are some of their best features:
Import orders from anywhere with "plug-and-play" support for over 90 online marketplaces
Just plug in your carrier accounts and compare shipping rates across them
Automate and schedule all your shipping tasks to eliminate mistakes
Shipping International made easy with integrated custom forms
Customizable templates for invoices, emails, reports and more
Automatically print pick lists, shipping labels and packing slips
Return Shipping Labels: Email return label for any carrier
Multiple plans available, contingent on your monthly shipping needs.
ShipWorks has a 30 Day Free Trial. Get more info here.
ShippingEasy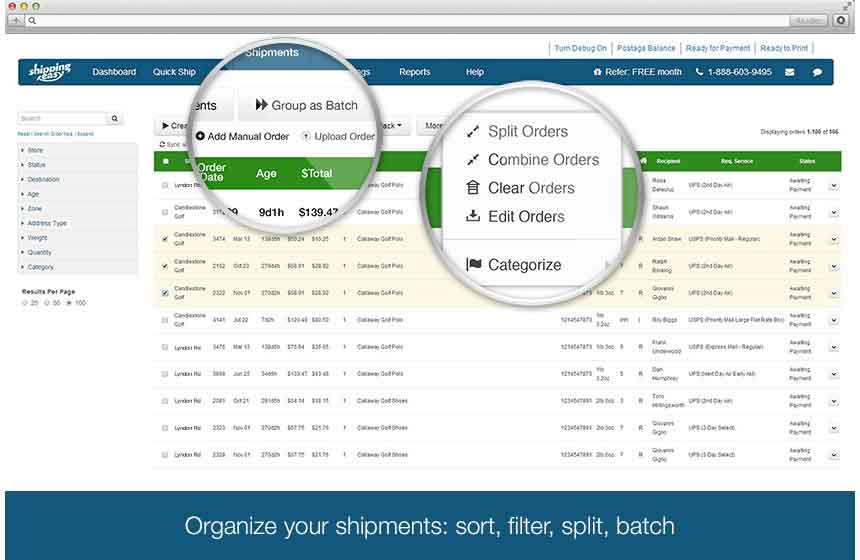 ShippingEasy is a cloud-based platform that allows online merchants of any sizes can ship fast with the lowest USPS rates. It integrates with all of the major shopping carts, carriers, and marketplaces. You can filter sort, split, or combine orders in one place.
Here are some of their main features:
Simple inventory management across multiple channels to make fulfillment and shipping efficient
Online orders instantly convert to shipping labels
Discounted shipping rates
Multiple plans available, contingent on your monthly shipping needs.
Ability to fully customize your logo on packing slips, invoices, etc…
Advanced reporting to help you grow your business
Customize workflows to organize and filter so you streamline your shipping
Integrates with all of the big eCommerce platforms
ShipEasy has a 30 Day Free Trial and a Demo. Get more info here.
Circle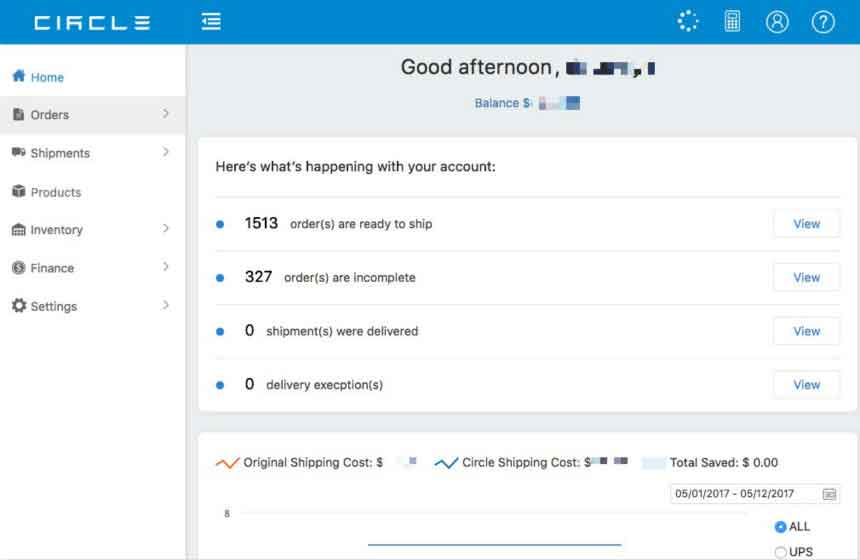 Circle provides web-based shipping software where shippers can easily fulfill their orders and ship to customers. The post-order process integrates with multiple selling channels for multi-store sellers, and has tools for creating bulk labels. Circle is accredited by the BBB (Better Business Bureau).
Here are some of the key benefits of Circle:
Multiple Selling Channels so you don't have to login into multiple online stores
Orders can be imported in real time from Amazon and other platforms including speadsheets
Universal carrier accounts means one account for all services from UPS, FedEx, USPS with consolidated billing
Easily compare shipping rates across carriers
Multiple pricing plans to meet your business needs
Discounted shipping rates
Easy international shipping with paperless invoice and commercial invoice reminders
Automation such as shipping preferences to save time in order processing and suggestions for optimal shipping based on your history
Try Circle it free with a basic account. Get more info here.
Alternatives to Stamps.com – Conclusion
If you are looking for alternatives to stamps.com, the companies above can offer similar services. Each one has their pros and cons and you should consider their free trials or free demos of their shipping solutions before you commit.
If you are currently dealing with user interface issue with Stamps.com then you should also consider a solution that has more options for shipping like FedEx, UPS, and USPS…you may even find cheaper rates. Remember user interface is important and has a direct impact on your shipping efficiency and ability to scale your business, don't overlook the interface for rates necessarily.
If you haven't actually tried Stamps.com and want to consider that among your options you can read our review here.